Our Young Author's Gallery is a place of pride at Saronti, and with new additions every month we thought we would celebrate by listing 10 Famous Young Authors. If you've ever tried writing a book you may know that you start out full of energy, plots, twists, character analysis, tragedy hope and resurrection. For many writers though, this initial phase of euphoria is swiftly followed by months and months of hard slog! So when we receive a brilliantly original story, embellished with superb drawings and artwork, that's been completed by a 5 year old- yes 5 year old- we are quite simply blown away.
Here's our list of 10 Famous Young Authors:
Anne Frank– Anne Frank's-The Diary of a Young Girl  was written when she was 15 yrs old, has been translated into over 60 languages and is a mainstay in many schools and literary curricula across the world.  The details of her harrowing experiences of hiding from Nazis before being sent to a concentration camp has inspired more generations than any other young author.

Christopher Paolini

– wrote his first novel, Eragon when he was 15. He was 18 when his parents' company published the book and a year later when a larger publisher republished the book, it soared onto the New York Times bestseller list.

Mattie Stepanek

– became a  New York Times bestselling author of five books of poetry. He was born with a rare form of muscular dystrophy and as well as publishing he became a lobbyist and peace advocate for people with disabilities. He died in 2004, just shy of his 14th birthday.

SE Hinton

– was only 15 when she started writing The Outsiders. The book became a bestseller by the time she entered college at aged 18. Although she wrote other books, The Outsiders outperformed all the others, selling almost 14 million copies.

Daisy Ashford

– was 4 years old when she wrote her first story, but she wrote her most renowned story, The Young Visiters,  when she was 9! It was published in 1919 and the introduction was written by J.M. Barrie. Many scholars believed him to be the actual author.
Alec Greven– was 9 years old when he watched the cruel rejection by girls on his playground schoolmates and decided to write a book called How to Talk to Girls in 2008. This self-help book became a New York Times bestseller, with practical tips like combing your hair! Alec went on to have more success with future titles: Rules for School, How to Talk to Moms and How to Talk to Dads.
Alexander Pope– known as a child genius for translating major works and writing epics in his early teenage years. He was 12 years old when he wrote his first major piece,Ode on Solitude.
Christopher Beale– was 6 years 118 days old when he entered the Guiness Book World Record as the youngest author to publish a printed book. Christopher used to write snippets during his lunch break and his mother asked him to write a full story. He wrote a 5-chapter novel entitled This and Last Season's Excursions, about a boy and his toy animals.
Jyoti and Suresh Guptara– were 11 year old twins when they finished writing the first draft of a fantasy novel entitled Conspiracy of Calaspia. Within six years, the novel had risen to the bestseller list, which inspired them to expand the story into a 2,000-page trilogy.
Dorothy Straight– was just 4 years old when she wrote How the World Began as a gift to her grandmother. Her parents saw potential and sought out a publisher for her story. Pantheon Books published it two years later when Dorothy was only 6 years old!
So as we can see age really is just a number when it comes to writing books. Here at Saronti we are soon to be opening up our services to more publishing packages, giving more children ( and eventually adults) the opportunity to see their works in print and on platforms for sale. We know there are many talented, creative and ambitious young authors out there and whether the book is for friends & family or for the wider stage, why not let us help you.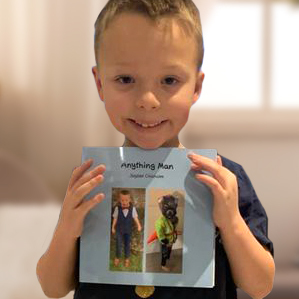 If you have, or know of, a Young Author who would love to see their work in print, get in touch with us and let us show you how we can make that dream come true.
Don't take our word for it- here's how one very happy parent told us:
When someone asks what did you do over the summer, her answer is "I wrote and got my book published". She's taken it into school and been asked to read a chapter everyday in front of the class. I know she's got in her to one day take centre stage amongst thousands.
I usually have a lot more to say but right now this is about shining the light  on my mini tornado.
A few thank you's to Karine Large and Sandie W. at Saronti who did phenomenal work in the publishing.
This is just the beginning there's much more to come from this mini tornado that is for sure!