Whilst we're sweltering in Mediterranean temperatures, but the pools are packed, why not entertain with some fun kids water activities at home. Kids love water and whether they're on a beach, in a pool or in the back garden there's lots of ways of keeping them entertained with water activities.
Here are some of our favourites using household items and giving tons of laughs:
Salt & Ice Dig

Prepare a block of ice with small toys frozen inside (or you could use an ice cube tray with a gemstone inside each cube). Prepare a bowl of salt, a jug of water and a few syringes. The children sprinkle salt on the ice and then squirt the water to melt it. They continue doing this until they can dig out the toy or gemstone. If you have a large freezer, you could set up a dinosaur dig…The kids love it and it can keep them entertained for quite a while- depending on how much ice there is to melt away…
Water Wall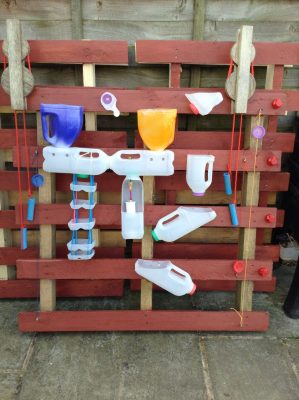 By using pipes, bowls, funnels and plastic bottles you can make a great water wall. Get your children involved with making the wall, as well as having fun playing with the water.
Water Shooter Battle
Don't have water guns? Don't worry, you can use washing up liquid bottles, shampoo bottles or even glue bottles – all empty and washed of course! Simply fill the bottles with water, take aim… and fire. Make sure you get a few adults involved too 🙂
Washing Up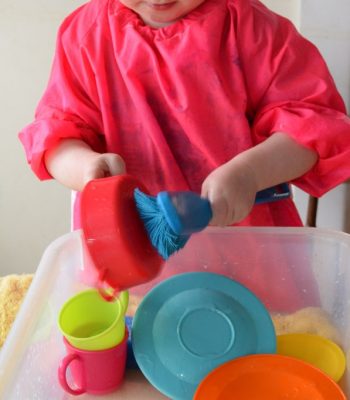 Sounds crazy but this is one of the most enjoyable activities for young children. By adding a few bubbles to the water and giving them a sponge and a brush, children will have tons of fun, and learn a few life skills along the way. To change the activity up you can have a dolls bathing day, car wash and clothes washing day.
Mixing Experiments
There's lots of different experiments children can do with water. Making lava lamps is one of them and here is another:
Place a teaspoon of baking soda into a glass or test tube if you have them. Add a few drops of food colouring, a little bit of water and washing up liquid too.  Drop in a tiny bit of vinegar and watch it fizz. Experiment with different amounts of ingredients and different colours.
However you do water activities please make sure you take precautions- Children will get VERY WET…
Don't forget – have lots of fun too…
Image by Martine den Engelsen from Pixabay
Images by mommypoppins, picklebums