There's a debate that's been brewing for a while now over traditional games v technology for our children. With hundreds of posts zapping through social media platforms pitting the levels of happiness of 'kids of the 90's' against kids of 'today' it would seem there's a sinkhole in the market – ie a bit of both! But how much screen time is TOO MUCH screen time, and how to get kids off screens? These are the questions most asked by parents?
No matter how much we want our kids to be out having adventures in the woods and coming home at dusk for tea, realistically the world is no longer geared towards those Famous Five days of old. Those of us who encourage our children to take on activities do so in organised blocks and with adequate supervision. It's also worth facing up to, and embracing the fact, that kids of today DO need to be tech savvy. But they also need to have fun!
The Recommended Guidelines for Screen Time
There are so many guides on the 'recommended screen times' out there and some with startling headlines such as:
Children under the age of 2 should not be on screen at all, or they will get fat!
Just how much screen time should our kids be getting? This guide has been suggested by research:
0-2: No screen time (sorry CBeebies)
2-5: an hour a day
5-18: no more than 2 hours a day
Now we know that getting kids off screens seems an impossibility, especially when children these days use screens for homework as well as entertainment. Plus as parents we all know that screens are the best babysitters ever!  What if there was a way of giving them online activities as well as bringing back some longed for family interaction?
What's the Solution?
You're in luck- here at Saronti we have found a way to both- give kids a fun online experience that results in an Old School Product. Saronti.com have for years been bringing life to books- literally! We have been adding faces onto our storybook characters for the past 10 years. This then expanded into Jigsaw Puzzles and Playing Cards. Now though we've stepped up a gear and brought technology into the mix.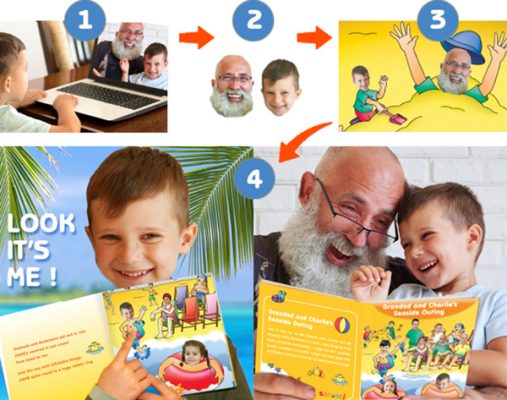 After a 2 year hiatus we're back and it's with a huge digital bang. We've built a 'customiser tool' to allow kids to make their own personalised products. "But hang on other companies have been doing that for years," I hear you all cry! Well not like this they haven't.
 With the Saronti.com tool you actually get to cut out faces from photos, drag and drop onto the characters of storybook pages, Playing Cards or Jigsaw Puzzle images, add Names or Nicknames (and in the storybooks change gender related words) and then review before sending to print. But it doesn't end there- they then get to share this digital experience with all their friends on their socials (of course they do!!). There are many great things about this tool but the fact that it's a fun, challenging, techy activity for young and older kids ticks loads of happy boxes for parents . 
After a few days, voila- a Traditional Book, Puzzle or Card game comes through the door- roll on Family games night, tons of laugh out loud memory moments and suitably smug parents 🙂 
So it would seem there is a place for both in the world of Kids entertainment. As much as kids are reliant on tablets, phones, consoles, nothing beats a good old fashioned game of Snap- especially when you have Grandad dressed as a Superhero (with pants on the outside). 
Let's get kids off screens (at least for a while). Saronti.com bringing digital to Traditional and bringing tons of Giggles too.