The benefits of foraging are plentiful, so why don't we take a look at some delicious recipes to make from foraged foods.
Here are a few of Arthur, the Grizzly Forager's favourite foods. Even though Arthur is only 3, he is able to identify many types of fungi, berries, herbs and edible plants. His favourite hauls include Chanterelle Mushrooms, which make a delicious soup, or Arthur's favourite- fried with butter on toast.
,
Wild raspberries, made into raspberry and white chocolate muffins.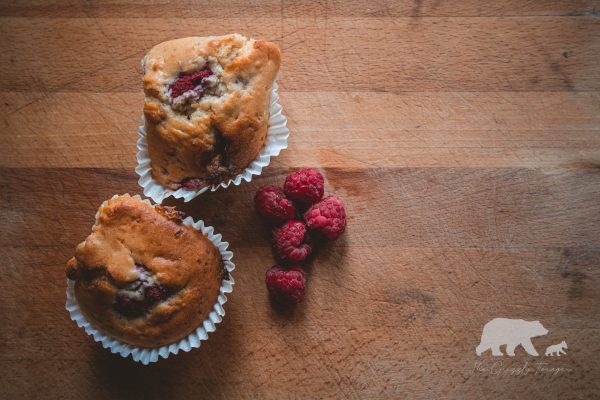 bilberries (also know as wild blueberries), and wild strawberries which can turn a crumble into a thing of beauty
Cauliflower, Fungus, Ramson and Wild Thyme Risotto
This recipe was made from foraged cauliflower fungus, wild thyme and some pre-foraged and frozen ramsons (it's equally as delicious with any other choice mushroom). This recipe feeds 4-6 people.
Ingredients
300g arborio rice
1 knob of butter
100g pre-cooked barley
1 finely chopped onion
200g roughly chopped cauliflower fungus
100g sliced pancetta
2.5L hot chicken stock
splash of white wine
1 large cube of chopped frozen ramsons
few sprigs of chopped wild thyme
25g grated pecorino cheese
salt and pepper
Method:
Melt the butter in a large, high sided frying pan
Sauté onion until soft and then add the cauliflower fungus and pancetta. Cook until brown.
Add the rice and fry for 1-2 minutes. Add a good splosh of wine
Add stock to just cover the rice, then stirring continuously, keep adding stock whilst thickening
When the rice is soft, stir in the pre-cooked barley, chopped ransoms and salt and pepper to taste
Sprinkle with pecorino just before serving.
Many Types of Mushrooms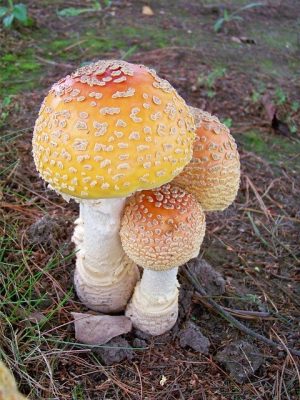 Luckily our woodlands and forests in the UK are abundant with plants, flowers and foods to forage. If, like me, you are partial to the many types of mushrooms we grow, it may help to take a look at this great guide from Wild UK. Here you can find a list of safe fungi, and a table of where and when they can be found. Once you've identified whether or not the mushroom you've foraged is edible, it's then time to clean it and make it into something delicious.
Cleaning Foraged Mushrooms
To avoid damaging the delicate mushrooms it's best to collect them in baskets.  Try trimming and cutting the stem at the point of picking, this will cut down preparation times. Foraged mushrooms should be refrigerated as soon as possible and should not be stored in a closed or plastic container. Paper bags or cardboard boxes covered with newspaper will help to decrease deterioration.
Some mushrooms might only need to be brushed gently, but others may require rinsing in cold water to remove any remaining soil. If foraged mushrooms are very wet they should be laid flat on kitchen paper to dry thoroughly. Once the mushrooms are clean and excess moisture has been removed, they should be used in recipes as soon as possible.
Here's a favourite of ours, from Wild Food UK, using any wild mushrooms you have foraged.
Mushroom, Butternut Squash and Chestnut Stew

Ingredients:
250g Any wild mushrooms
200g Chestnuts
1 Butternut squash
1 Medium onion
2 Sticks of celery
2 Carrots
Some wild garlic
Mushroom or vegetable stock
1 tsp of dried oregano
Small bunch of fresh thyme
Glass of red wine
Seasoning
Oil for frying
Olive oil
Lemon
Method
Cut the celery and carrot quite finely and fry gently in the olive oil. Slice the onion and garlic and add to the pan, do not allow the onion to brown.
Chop the butternut squash into bite sized chunks. Chop the bigger mushrooms, leaving the others whole. Add to the pan along with the chestnuts, season and stir until the mushrooms have softened.
Stir in the red wine, then add enough water to just cover everything. Add the stock and chopped herbs, bring to the boil, cover then allow to simmer for 45 minutes.
Let the stew rest for ten minutes, drizzle with olive oil and lemon juice and serve with some crusty bread.
However you decide to us your foraged foods, you can't fail to taste the vibrant, full flavours of nature. Why not let us know about your favourite foraged recipes at  Instagram
Images by Mischelle Sandowich from Pixabay  silviarita from Pixabay