Where would Christmas be without the visit to Santa's Grotto? It's probably the only queue where children behave, stand in line and wait. Let's face it, they're too scared to get on that 'naughty list' not to!! There's always things that children want from parents and long as we can remember, visiting Santa's Grotto has been top of that list. Even if it's a suspect looking portacabin at the back of a car park, Santa and his grotto hold mystical powers.
So where did it all begin? Take a look at our Top 5 Santa's Grottos and find out.
The tradition started in Britain in 1879, with the world's first Christmas grotto opening in Lewis's Bon Marche Department Store in Liverpool. Entitled "Christmas Fairyland" the grotto became one of Liverpool's 'go to' places and put it firmly on the map. For many generations people visited Father Christmas here, with the final displays covering over 10,000 square feet. It's good to see the Grotto is still there, even though it has now moved to St. Johns Market, St. Johns Shopping Centre.
So where do you take the little one's and just what do you get for your money?
Here is a short list of the best around :-
Top 5 Santa's Grottos
Berkshire-
Lapland UK. If you aren't lucky enough to get to the real Lapland, (which by the way is THE best holiday ever!!), then visit this transformed forest in Berkshire. Here you can walk through this snowy winter wonderland, meeting Christmassy characters along the way.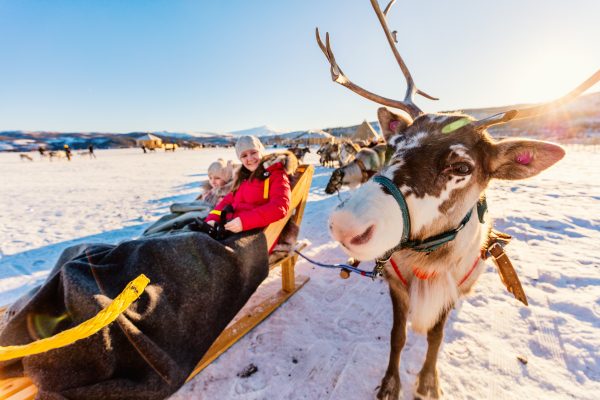 Be warned, it is a 3 and a half hour journey, so maybe not suitable for the very young. During your trip you will encounter huskies, elves and take part in toy making, ice skating, and gingerbread making. Included in the price is a beautiful gift for each child and a souvenir family photograph with Father Christmas.
Tickets: From £65
When: 17 November to 24 December
www.laplanduk.co.uk
Celtic Manor- Newport.
At this very impressive setting of Wale's most luxurious hotel, children and their families can enjoy a really festive afternoon in the elaborately decorated Grotto. As well as their own special afternoon tea, children also get to enjoy a group story time with Mother Claus and write their 'list' to Santa. Santa visits the session to deliver a small gift to all the children before Christmas.
Tickets: From £12 per child – £24 adults
When: 2- 24th December
www.celtic-manor.com/christmas/festive-dining
Kielder Winter Wonderland – Northumberland
This full day adventure starts by following the winter wonderland star, which leads your family into the magical enchanted forest. In this stunning location, you will find Father Christmas, Mrs Christmas and their friends. Children help the elves in their workshop, where they make a Christmas keepsake to take home, help Mrs Christmas with her chores and watch a Christmas theatre show. As well as these indoor activities, there's also snow tubing, ice skating and feeding Santas reindeer.
Tickets: From £39.50 per person
When: 16th November – 23rd December
www.kielderwinterwonderland.com
Ride the Polar Express
For something even more different, why not give them the experience of that iconic Christmas movie the Polar Express. With a choice of the Mid-Norfolk Railway, Telford Steam Railway or the Seaton Tramway you can truly indulge yourself in the movie experience.
You'll arrive at the train station (wearing pyjamas of course), where you are met by the conductor, who invites you and the other passengers to climb aboard. During the journey, dancing Chefs and Waiters serve cookies and hot chocolate, bringing scenes from the film to life. Upon arrival at the North Pole you pick up Father Christmas who travels through the train presenting children with their special gift.
Back at the station the fun continues in Santa's Workshop where you can paint your very own Christmas Decoration and colour in some of your favourite Polar Express characters, as well as writing your letter to Santa and Post it in the Elf-Mail Box,
When: 28th November – 24th December 2019
Ticket: From £24.95
www.midnorfolkthepolarexpressride.com
Ticket: From £24.50
When: 1 December to 23 December 2019
www.midlandsthepolarexpressride.com
When: 23rd November – 23rd December 2019
Ticket: From £37.00
Tower Toymaker's Workshop, Portsmouth
For something different, why not try the 170 meter high Emirates Spinnaker Tower. Here you can delve into the Tower Toymaker's Workshop joining the elves as they make the finishing touches to their latest batch of cuddly reindeer toys. Each child gets to name their toy, fill it with stuffing and place a magic charm inside before carefully sealing it up. Once their cuddly toy is finished, they get to visit Father Christmas in his grotto!
When: 30th November – 24th December 2019
Ticket: From £10.00 without admission to the tower £15.00 with tower admission
So whichever one  of Santa's Grotto's you decide to take the Little One's remember to wrap up warm and take lots of photos. Christmas memories are meant to be cherished.