This dandelion art from toilet roll is such an easy way to make a beautiful painting. Our contributor, Alethea Taylor Dozier uses a three shades of blue to create this beautiful effect, but of course you could use yellow, or in fact any colour. Why not mix up colours and make a bunch of dandelions.
What You Need
Paper
Toilet Roll
Paint
Paint brushes
Scissors
Instructions
Cut narrow strips into the toilet roll up to halfway.
Continue cutting all the way round
Spread out the ends in a fan shape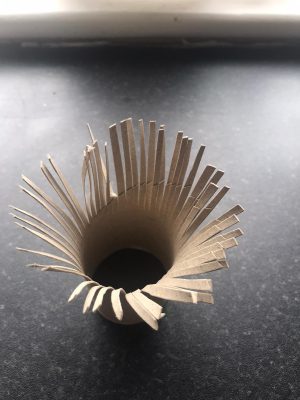 Put a circle of your lightest colour paint onto a plate and press the fan of the toilet roll into the paint. Press this onto the paper as many times as you need to make the shape of your dandelion. Add each colour, repeating the pressing process.
Your dandelion shape is then created.
Now you need to add a stem, with a very fine brush
Blend some colour into the middle of the flower
And there you have your Dandelion art from toilet roll.
I hope you like this activity and of course we would love to see your final creations.
Check out our family fun section for more activities, tips, hacks and fun.