This is a wonderful recipe for bird seed, but please NOTE- do not do this with children who have nut allergies. It's important to give the birds a balance of nutritious ingredients- as well as a few of their favourite treats. A lot of these items you may already have in your cupboards, but if not they are all easily accessible in the shops or online.
Ingredients:
1 Cup Of Black Oil Sunflower Seeds
1 Cup of Chopped Plain Peanuts
1/2 Cup of Striped Sunflowers
1/2 Cup of Cracked Corn
1/8 Cup of Dried Fruit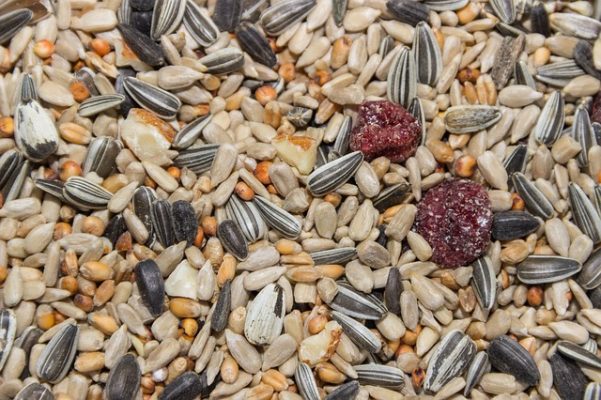 Sunflower Seeds
Birds love sunflower seeds, whether in the shell or hulled and they should always be a staple part of a good bird mix. Black oil sunflower seeds have a high fat content and are high in fibre and protein too- one could say a birdy superfood! Striped sunflowers are also a great choice, and quite often more readily available. If you don't want to clog up the feeders with shells and debris then buy pre-shelled seeds.
Cracked Corn
Cracked corn is better than whole corn as it is easier for small birds to eat. Cracked corn will attract both large and small species of birds. It is high in fibre and protein and balances the high-oil content of sunflower seeds.
Peanuts
Like sunflowers, peanuts can be left in the shell or pre-shelled in the mix.
Dried Fruit & Raisins
Pet shop bought bird feed doesn't usually contain fruit as it's the most expensive ingredient. Even a small amount added to your mix can be a huge benefit to your feeder and a special treat for the birds. Any kind of dried fruit (like raisins, cranberries, orange peel) is excellent for bird's diets and can attract many types of birds to a feeder, that wouldn't otherwise visit.
The above measures are purely a guide and you can adjust your mix to whatever you feel.
Take a look at out homemade bird feeder and don't forget to take some snaps of those hungry birdies enjoying their daily feed and send to help@saronti.com