With Halloween around the corner, children are confused as to what is allowed, and what's not allowed. Parents and carers are more interested in if there is a way to have a Covid19 safe Halloween? Business Minister Nadhim Zahawi told LBC radio:
 Those living in tier three in England will not be permitted to trick or treat this year, as the restrictions against households mixing in private gardens also includes front gardens. that although tiers one and two are still allowed to get involved in the festivities, 'Sadly, in tier three, you can't, because it is the areas where we have the highest level of infections.'
The Governments for Wales, Scotland, and Northern Ireland have not officially banned it, and have stipulated that trick or treating is allowed, if you follow these rules:
the rule of six
social distancing
refrain from going inside people's houses
one or two members of the party, at a time to knock on the door
stand back from the door when people answer
face coverings worn
hand sanitiser used when exchanging sweets and after touching doorbells
Covid-safe Sweet Set Ups
Households may prefer to leave sweets outside in a bowl or lollies sticking out of pumpkins, rather than have children knock on their doors. For the more adventurous there's the chute, like many houses in the US are doing. Set up a ,long piece of hosing and simply 'fire in the hole' the sweets down the tube to the children at the other end. That way you can give out sweets at a safe, non-contact distance (and have tons of fun too).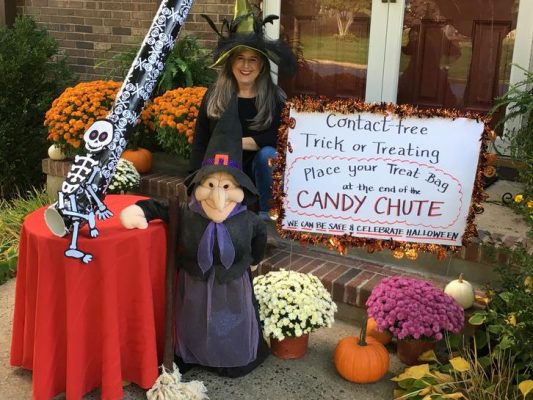 Be Respectful of Neighbours and the Elderly
Where I used to live, we would put a candlelit pumpkin in the window if we had sweets to give out. This year, it may be that there are many more people not wishing to participate. Some may be shielding for example. Be respectful of people's wishes, and if it looks like there's nobody taking part, then do the right thing, and walk onto the next house.
Parties and Gatherings
Although, in many places, parties are banned, you can still hold a small get together if you are in Tier one, and in Tier two areas, you can have a small garden, or outdoor party. Be mindful that in both these situations, the rule of six and social distancing apply.
Even though there may be no pacing the streets this year, filling up our buckets with bounty, there are still some great ways to have a Covid19 safe Halloween
 Hampshire County Council have these following suggestions for a truly safe Halloween:-
Dress up competition with prizes for the scariest or wackiest outfit
Decorate the house with fake cobwebs, spiders, balloons and glow-in-the-dark skeletons
Have a spooky indoor picnic with lots of your favourite Halloween treats (sausage fingers, spider cupcakes etc)
Spot the best pumpkin: take a walk around your neighbourhood and see who has the most pumpkins, the biggest pumpkin and the scariest face on a pumpkin
Treasure hunt: hide Halloween treats for the members of your household to find, and get the older children to read the clues for the younger ones
Enjoy a Halloween movie night, with popcorn and treats
Halloween Movies.
If you have a group of children varying in ages, you may want to find a movie to suit everyone. Luckily there are a few classics:- Hocus Pocus, The Witches, Goosebumps, Hotel Transylvania, Monster House,  The Addams Family. Throw some cushions on the floor, turn the lights out and crank up the volume.
However you choose to celebrate, make sure it's a Covid19 safe Halloween.