I'm so pleased with how this turned out I thought I'd show you all…. Not a Muckyd's household, but the sausage egg mcmuffin was a guilty pleasure at one point in time. Since we're on lockdown though I thought I'd try and create my own. My daughter is vegan so I've added in tweaks to make it vegan..
Ingredients (serves 4)
For the vegan sausage patty:
2 onions
2 carrots
10 chestnut mushrooms
4 cloves of garlic
1 tbsp light cooking oil
1/2 tsp ground nutmeg
1/2 tsp all spice
salt & pepper
220ml veg or osem (fake chicken) stock
75g red lentils
75g brown lentils
75g porridge oats
2tbsp stuffing mix
1 tbsp sage leaves (chopped)
1tbsp nutritional yeast
plain flour for making patties
How To Make
Add carrots, onions, mushrooms, garlic to a blender and blitz. Add the oil to a frying pan and fry blended mixture for 10 mins on low heat. Add nutmeg and all spice and fry for another 5 mins. Add the stock. Rinse the lentils and add to the pan. Bring to the boil and then simmer for 40 mins or until lentils are soft. Add porridge oats, stuffing mix, sage leaves and nutritional yeast and simmer for 10 mins more. If your mixture gets too dry, add a splash of water.
Scoop the mixture into a mixing bowl and leave to cool for an hour.
Flour your hands and make muffin sized patties. Fry in a small amount of oil until golden brown.
How to Build the Sausage Egg Muffin
Fry an egg, (I personally break the yolk in the pan). Toast the muffin under a low grill, add a slice of vegan cheese onto one side of the muffin and melt under the grill.
Place the sausage patty on top of the cheese,
then egg, blob of ketchup (or brown sauce if preferred) and then top with muffin.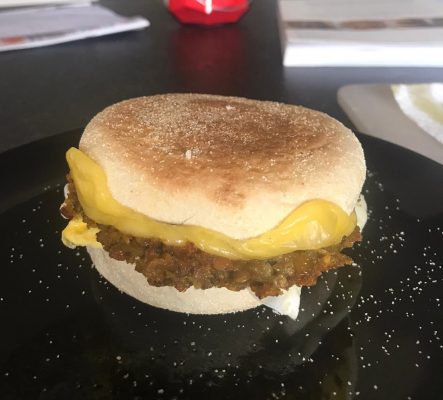 Vegan Alternative
To make the vegan version- build your muffin like this:
muffin, cheese, sausage patty, cheese, sausage patty, ketchup (or brown sauce) muffin.
However you take your muffins- enjoy them …